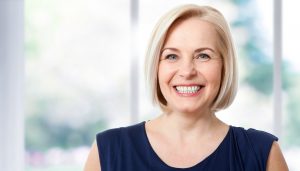 Over the years, you expect to see a few gray hairs or crow's feet, but you may not have been prepared for age to affect your teeth. Tooth discoloration, chips, or worn teeth can make you look years older than your chronological age. Thankfully, you can turn back the clock with cosmetic dentistry. You have more options than ever to reveal a younger smile. Here are just a few options to revamp your pearly whites. 
Porcelain Veneers
A veneer covers the front surface of a tooth to hide a variety of imperfections instantly. When bonded to the teeth visible when smiling, they can correct multiple flaws using one minimally invasive treatment. After just two appointments, you can have a picture-perfect smile with results that can last for a decade or more.
Metal-Free Dental Crowns
A metal crown gives away your age because modern restorations are made from all-ceramic material. As a result, they are customizable to the color, size, and shape of your real tooth to look natural. You won't have to worry about a dark crown being the focal point of your smile any longer. Although they aren't made of metal, all-ceramic crowns have a lifespan of 10 years or more, and they can be covered under your dental insurance.
Cosmetic Dental Bonding
Cosmetic bonding offers a lot of bang for your buck. A composite resin can fix minor aesthetic issues, like chips or cracks. It's shaded to match the color of your enamel, so only a trained dental professional will know it isn't part of your natural tooth. You can enjoy significant results after just one appointment.
Teeth Whitening
A professional whitening system can get your teeth up to 8 shades whiter in a single afternoon. A highly concentrated whitening agent deeply penetrates your enamel to remove lifestyle and age-related stains. Your dazzling results can last for several months or years, depending on your aftercare routine.
Gum Recontouring
If you have a "gummy smile," your cosmetic dentist can reveal more of your teeth surfaces using a soft tissue laser. Gum recontouring will improve your gum line for permanent results. The laser will remove the tissue with unmatched precision using a less invasive method than a scalpel and sutures. This can also be a great option for patients with periodontal disease because the laser kills bacteria and encourages the regeneration of healthy gum tissue.
Refresh Your Smile Today
The benefits of an attractive smile are priceless. If your teeth are showing the passing of time, invest in a youthful, confident smile with the help of your cosmetic dentist. You'll take years off your age to always look your best.
About Dr. Jasmine King
Dr. King achieved her dental degree from The University of Tennessee College of Dentistry. She regularly pursues continuing education to provide the most up-to-date services. Dr. King is a member of various professional organizations, including the American Dental Association. If you're ready to improve your smile, she has a reputation you can trust. Contact our office today to request your consultation.