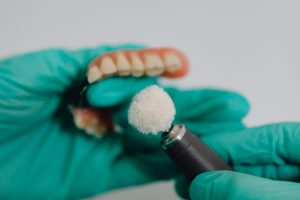 30 million Americans rely on dentures for a confident, functional smile. If you have invested in a new set of teeth, nothing can ruin your day faster than a denture breaking. You can't go without your teeth, but is it a dental emergency? Yes! Your dentist understands the role dentures play in your quality of life. They'll get you into the office quickly for a repair or replacement. In the meantime, here's what you need to know to make a stressful day easier.
Top Causes of Broken Dentures
Dentures are made of durable materials and can last for 5-7 years before needing to be replaced. Even with the right maintenance, you can't stop daily wear and tear, which can lead to fractures. The pressure of chewing and the type of foods you eat can wear down your denture.
You can have an added risk of denture damage as time passes because your jawbone will shrink. Bone loss can cause your denture to fit poorly, which can create stress and pressure points where it can break.
Besides age and regular use, denture dental emergencies can also occur from accidental breakages, like dropping them or everyday activities. No matter the reason, you need to see a dentist for repairs.
Denture-Related Dental Emergencies
You shouldn't continue to wear broken dentures because they can cause additional damage that may not be repairable. Depending on the issue, wearing a broken denture can cause oral injuries and infections. If possible, use an old one until your dental appointment.
Your dentist will examine the damage to create a personalized treatment plan. Whether a small crack or your denture snapped in half, your dentist might be able to repair it. However, if it's an older prosthetic or your mouth has changed shape significantly, they'll likely recommend a replacement. They'll create a high-quality replacement quickly to rebuild your smile.
You can lower your risk of denture dental emergencies by investing in dental implants. Implant posts are placed into the jaw to mimic roots, which will stop bone loss and stabilize an over-denture. You'll never have to worry about slipping or irritation again. Your pearly whites will be secured to your jawbone for a nearly perfect replica of your real teeth. They have over a 95% success rate and are proven to last for decades with the right care, so you won't have to budget for replacements every few years.
Contact Your Dentist Right Away
Don't let a broken denture ruin your day. Contact your emergency dentist right away. They'll explain all your options to find the solution you need to enjoy a complete, confident smile again.
About Dr. Jasmine King
Dr. King achieved her dental degree from The University of Tennessee College of Dentistry and regularly pursues continuing education to provide advanced services, like dental implants. She is a member of various professional organizations, including the American Dental Association and the Texas Dental Association. If you need an emergency dentist, contact our office right away for an appointment.