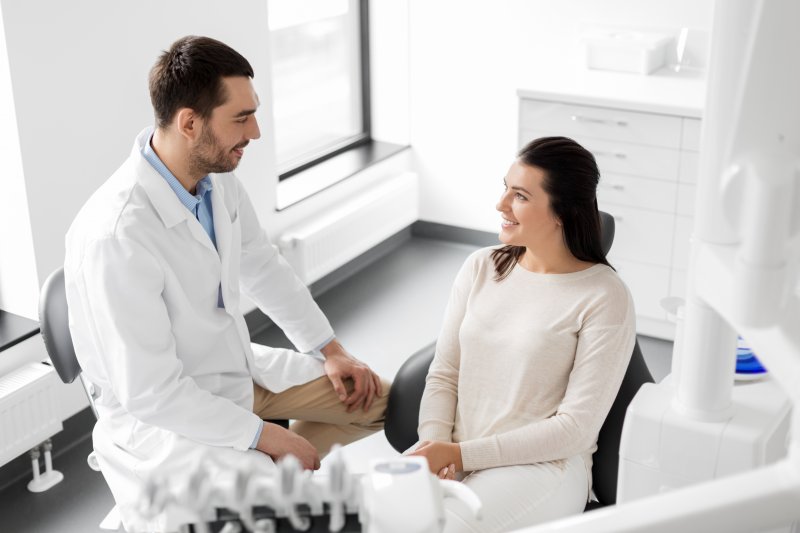 If your smile is stained, chipped, cracked, gapped, misaligned, or has other aesthetic issues, you may find it difficult to feel comfortable and confident in your pearly whites. Though these things may make your smile unique, there's nothing wrong with wanting to make some improvements by undergoing cosmetic dentistry. If you've never had your teeth worked on for aesthetic purposes, you may be wondering if it hurts. Read on to learn everything you need to know about cosmetic dentistry and whether or not it hurts.
Cosmetic Dentistry: Does It Hurt?
Advancements in the dental health field have made cosmetic dentistry virtually pain-free. For patients who feel anxious or fearful about going to the dentist, sedation dentistry may be a good option. It helps them feel calm and comfortable throughout their appointments. Dental sedation can also make treatment more comfortable for people who have sensitive gag reflexes, sensitive teeth, who are uncomfortable reclining in the dental chair for long periods, and who don't respond well to local anesthetics.
Cosmetic dentists also use modern dental technology and techniques that prevent treatments from being painful. This allows them to administer precise, minimally invasive, and customizable treatments that give patients the smiles they always wanted.
What to Expect from Cosmetic Treatment
You shouldn't experience any pain during cosmetic procedures, but there may be an adjustment period for some treatments. Here's what you should expect from a few popular cosmetic dental treatments as well as some tips on managing discomfort:
Teeth whitening – Professional-grade bleaching products are used to lift stains from your smile either in office in just one visit or at home over a period of two weeks. Over-the-counter teeth whitening products often cause sensitivity, but professional ones are unlikely to cause discomfort. If you experience sensitivity, it should pass within a day or so.
Porcelain veneers – These thin shells are made of dental-grade porcelain and require the removal of a small amount of tooth enamel. Over-the-counter pain relievers can help dull any discomfort or increased sensitivity you experience after having them placed.
Invisalign – This treatment utilizes a series of clear plastic aligners to move your teeth into a more ideal position over a period of months or a few years. If you experience discomfort after switching to a new set of aligners, put an ice pack on your face or gums. Over-the-counter pain medicine will also help.
Gum recontouring – During this procedure, your dentist will remove extra gum tissue to make your teeth appear longer and more uniform. Over-the-counter pain relievers will help ease any soreness you feel after the procedure.
Cosmetic dental bonding – During this treatment, your dentist used a composite dental resin to fix chips, small gaps, cracks, misshapen teeth, alignment issues, and discoloration. This procedure should be completely painless.
As you can see, dental sedation and modern technology allow your cosmetic dentist to give you a new and improved smile pain-free. Soon enough, you'll be on your way to the gorgeous grin you've always dreamed of!
About the Practice
Led by Dr. Jasmine King, the Fort Worth team at Summer Creek Dentistry offers patients in the DFW area a range of exceptional dental health services. Their cosmetic procedures help patients improve the look of their smiles so they can feel more confident in their pearly whites. Call Summer Creek Dentistry's office at (817) 292-7488 or visit their website if you want more information about teeth whitening or to set up a consultation.