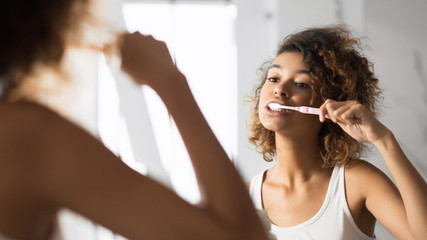 Over the years, drinking things like coffee, tea, red wine, and cola can cause your teeth to become discolored. Though this makes your pearly whites look less healthy and bright than they once did, teeth whitening offers a solution. They claim to be able to remove stains from one's grin, but do over-the counter-teeth whitening products work? Read on to learn if store-bought whitening is a good option for your smile, the risks, and how it compares to professional products.
Are Over-the-Counter Whitening Products Effective?
Every smile is different, so some people find success in using over-the-counter whitening products. Even so, they tend to offer unimpressive results. Since the teeth bleaching trays aren't customizable, they are unlikely to perfectly fit your smile, which will make them less effective than intended. Additionally, the whitening agents that are used in these pastes, gels, and strips are often diluted, which has the same results.
Additionally, since whitening strips often only cover the front few teeth, this causes the product to be unevenly distributed. Your saliva also mixes with the whitening agents and further dilutes them. Though whitening toothpastes can sometimes effectively remove stains, they contain abrasives that may scratch your enamel and leave your teeth susceptible to decay.
The Risks of At-Home Remedies
On social media platforms like TikTok, searching for the words "teeth whitening" pulls up countless at-home teeth solutions. Though influencers with beautiful smiles may seem like a good resource, many of these hacks can damage your pearly whites.
For example, using activated charcoal to buff away discoloration works in a similar way to whitening toothpaste and can cause enamel damage. Rinsing with hydrogen peroxide, which is another popular hack, can result in inflammation and may also harm your enamel. There is no scientific backing for these methods and they haven't been approved by the American Dental Association, so it's best to avoid them.
Why Professional Whitening Is the Best Option
Fortunately, professional teeth whitening products are administered by a licensed professional with extensive oral health knowledge. This makes them safer and more effective at lifting stains than other methods. In-office treatments use laser dental technology to remove deep-set stains from your teeth in about an hour and can brighten your smile by up to eight shades. This is significantly more than what you can achieve with store-bought whitening solutions.
Additionally, a dentist's take-home teeth whitening kits are custom-made and come pre-filled with bleaching gel that is much stronger than over-the-counter methods so you can improve your smile on your own time.
Though some store-bought teeth whitening products can effectively improve the look of your smile, the potential damage isn't worth the risk. Instead, set up a consultation with your dentist to learn more about their professional whitening services so you can be on your way to achieving a brighter, whiter, and more beautiful smile!
About the Practice
Dr. Jasmine King and her Fort Worth team at Summer Creek Dentistry offer patients a range of exceptional services to improve the look and function of their smiles. If your teeth are beginning to look dull and discolored, they offer both in-office and take-home teeth whitening services to give you the gorgeous, healthy grin you've always wanted. Call Summer Creek Dentistry at (817) 292-7488 or visit their website for more information on teeth whitening or to schedule an appointment.