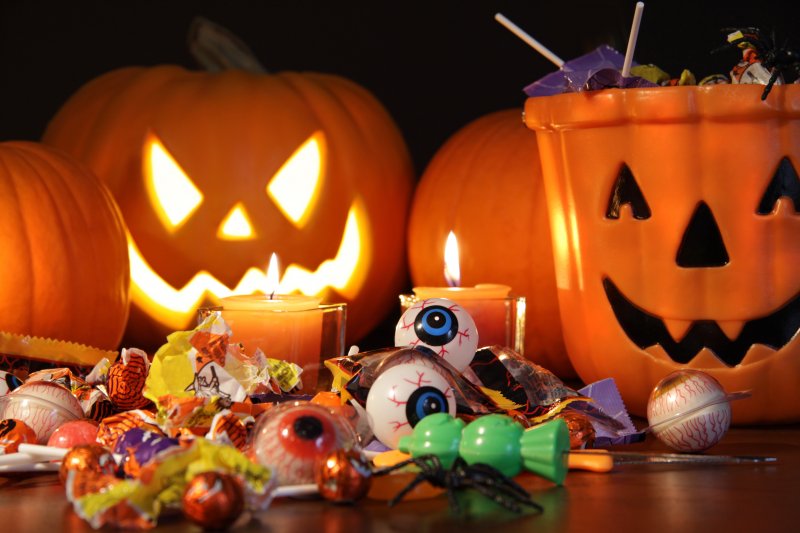 Halloween. It's a time where many families look forward to dressing up in costume and going trick-or-treating around the neighborhood, collecting piles of free candy that will (hopefully) last through winter. Although this age-old tradition is certainly fun, it can leave a lasting mark on your smile if you're not careful. With all that Halloween candy lying around the house, you may be tempted to snack on it more than usual. Luckily, we've gathered a few useful tips to keep your sweet tooth at bay. Continue reading to learn more.
How Does Candy Affect Your Oral Health?
Everyone knows that sugar can wreak havoc on your smile. Anytime you eat something sweet, the cavity-causing bacteria in your mouth feed on the particles, producing harmful acids that attack the enamel. That process is what leaves your teeth susceptible to many oral health problems, including cavities, tooth decay, and even gum disease. Even though Halloween candy is not the best for your teeth, it may surprise you to learn that some types are worse than others. For example, those that last a long time in your mouth (like lollipops and jawbreakers) are very damaging because of your mouth's increased exposure to sugar.
Tips to Manage That Halloween Sweet Tooth
Does your sweet tooth become irresistible during Halloween time? Here are some ways you can keep those cravings at bay.
Limit Your Stash
Before your family goes trick-or-treating, you should develop a plan to minimize the amount of candy your little ones collect. You can allow everyone to keep a select number of treats and donate the remainder to an organization. Another option is to limit the number of houses your children visit on Halloween night. Lastly, you can let them trade a portion of their treats for a non-candy prize. Regardless of the approach, it's critical to have a solid plan in place and discuss it with your family beforehand.
Follow a Healthy Diet
Don't forget to follow a healthy, well-balanced diet! Make sure you and your family eat foods that meet all nutritional needs, such as whole grains, dairy products, lean meats, fresh fruits, and vegetables. These foods benefit your body and mouth! By sticking to a nutritious diet, you'll "fill up" and feel less tempted to reach into your stash of Halloween candy for a treat.
Choose Healthier Alternatives
Whenever you get the urge to eat something sweet, reach for some fresh fruit. It contains natural sugars, so you'll still be able to get your fix – just in a healthy way! If you must indulge in candy, opt for sugar-free whenever possible. That way, you can enjoy a sweet treat without having to put your pearly whites at risk.
Is your family ready for Halloween night? By following the tips outlined above, you can ensure everyone's smile remains healthy and cavity-free all season long!
About the Author
Dr. Jasmine King provides exceptional, high-quality, individually tailored dental care to patients of all ages. She earned her Doctor of Dental Surgery from the University of Tennessee College of Dentistry. Since graduating, Dr. King has taken hours of continuing education courses every year to grow and refine her skill set. For more Halloween oral health tips, visit our website or call (817) 292-7488.