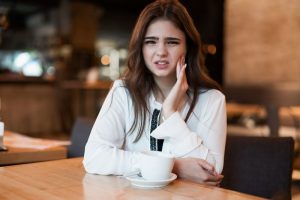 Have you ever seen a beat-up, old car with really fancy, shiny rims that look like they cost more than the car itself? Well, that approach to one's vehicle is not unlike the notion of getting teeth whitening treatment on cavities or decayed teeth. After all, if someone is suffering from tooth decay, the shade of the tooth in question is inconsequential relative to the damage the tooth has suffered.
Read on to learn why cavities do not coexist well with whitening gels and why it is prudent to check in with your dentist prior to any teeth whitening treatments.
Cavities Plus Whitening Gel Can Equal Pain
The bleach used in teeth whitening contains hydrogen peroxide, which is a chemical that can upset overly sensitive teeth. Even a completely healthy tooth can become irritated by whitening bleach.
When a teeth-whitening regimen is started before filling a cavity, the whitening solution will infiltrate the inner parts of the tooth, making the entire tooth weakened and irritated. In some cases, teeth with cavities that were exposed to whitening bleach have been permanently damaged.
Tooth decay is the preliminary stage of a cavity, but it will also ramp up the sensitivity if you undergo a whitening treatment. Ultimately, you want to have cavities filled and your teeth restored before the whitening to avoid a painful few days at the very least.
Also, if a cavity is on the biting surface of your tooth, it is especially important that it is filled so that any custom bleaching trays fit more securely around the tooth.
Checking In with Your Dentist Is Wise Before Whitening
Before you commit to teeth whitening treatment, it is a good call to let your dentist know. Certainly, if you plan to have the whitening done by the dentist this will be addressed, but if you are attempting an at-home method it is smart to share your plans.
If your dentist has recently checked your teeth, they may be able to recall your dental situation and/or skim through your health records to offer any advice beforehand. In this case, you may be able to check in with them by a simple phone call.
One thing to consider before going forward is that crowns will not change color or become white as a result of teeth whitening. It may not be an ideal look for all but one of your teeth to be pearly white, particularly if that tooth plays a prominent part in your smile.
Professional teeth-whitening treatment can certainly benefit your smile, but when you start the process before all of your teeth are structurally sound and healthy, it could prove to be a painful, regrettable decision. If you aren't sure about teeth whitening and your oral health, a checkup with your dentist can verify if you are a good candidate.
About the Author
Dr. Jasmine King has been focused on providing optimal dental care while prioritizing patient comfort since she began practicing in the DFW area in 2006. She founded Summer Creek Dentistry nearly a decade later in order to focus on helping patients in southwest Fort Worth. Dr. King is a member of several professional organizations, including the American Dental Association, and she completes many hours of continuing education each year. To schedule an appointment for cavity repair, teeth whitening, or one of the many other dental services she provides, visit Dr. King's website or call (817) 292-7488.