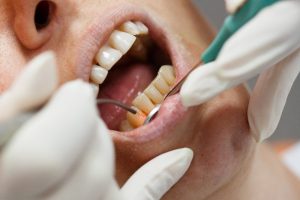 If you have a "gummy smile," you might avoid showing your teeth to save yourself from embarrassment. You won't have to hide any longer with gum recontouring. The minimally invasive procedure will reshape your gum line to make your teeth look proportionate. In some cases, the benefits of gum recontouring can also aid the treatment of periodontal disease. Here are the facts you need to know to determine if gum recontouring is right for you.
What is Gum Recontouring?
Gum recontouring is a procedure that removes excess or diseased tissue while also creating a pleasing gum line. In the past, a scalpel was necessary to perform the treatment, but now there's a better solution. Laser dentistry allows you to skip the pain and discomfort of scalpels and sutures. Instead, a highly concentrated beam of light energy removes the tissue with unmatched accuracy. Overall, it provides superior results, less pain, and fewer risks when used to treat:
Gum tissue that's too high or low on the teeth.
Uneven gum line.
Inflammation, pain, and redness of the gums.
Gum recession.
How is Laser Gum Recontouring Different?
Dental lasers have revolutionized dentistry because they enhance the overall success of common procedures, like gum recontouring. Your dentist uses a small handheld device that emits a powerful light beam to target the tissue. The tiny tip gives them greater control to only remove the intended tissue. Not to mention, the laser sterilizes the tissue as it cuts to reduce the risk of infection. It also cauterizes the area to prevent postoperative swelling and bleeding.
When gum contouring is necessary to treat periodontal disease, the laser can remove the infected tissue, stopping the infection in its tracks. It will also promote the regeneration of healthy tissue to allow your gums to reattach to your teeth to safeguard against future infections. If your gum line has been damaged by the disease, the laser can restore a beautiful smile.
What are the Benefits of Gum Recontouring?
Gum recontouring with laser dentistry provides a variety of advantages, including:
Resolves gummy smile to reveal more of your teeth.
Improves your self-esteem by creating an attractive gum line.
Minimally invasive treatment that uses advanced technology.
Virtually pain-free.
Shorter recovery with fewer risks.
More accurate, precise results.
Treats gum disease and removes infected tissue.
Enhances the health and appearance of your smile.
Transform Your Smile Today
Whether you have gum disease or excess tissue affecting your smile, you might be a candidate for gum recontouring. Your dentist will use the latest technological advancements and techniques for superior results. They'll help you achieve the beautiful, healthy smile you deserve using modern solutions and a personalized treatment plan.
Meet Dr. Jasmine King
Dr. King earned her dental degree at the University of Tennessee College of Dentistry. She combines her qualifications with state-of-the-art technology to provide exceptional care. She regularly continues her training to offer the most current services, like laser dentistry. If you're ready to transform your gum line, contact our office today to schedule your consultation.