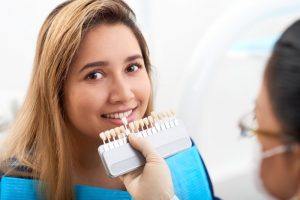 Not everyone is born with a smile ready for the red carpet. If you're interested in fixing all of the cosmetic imperfections in your teeth with just one minimally invasive procedure, you can't go wrong with veneers. Once your dentist places these thin porcelain shells over your teeth, virtually all of their flaws disappear. Even though veneers are thin, they're remarkably durable. They can last for a decade or longer, but they will need to be replaced at some point. How can you tell when you need new ones? Here are five signs that you should be replacing veneers in the near future.
1. Your Veneers Look Darker
The dental cement that bonds your veneers to your teeth is incredibly powerful, allowing the restoration to remain in place for years. Eventually, the cement will darken to the point that it can be seen through the veneer. Sadly, this discoloration is irreversible, so your only option is to have new cement applied.
2. Your Veneers Have Stains
Porcelain is highly stain-resistant, but tiny scratches can develop on the surface as a result of everyday wear and tear or abrasive dental hygiene products. If food particles and plaque get stuck in these cracks, your tooth may appear discolored. The tooth under your veneer is also susceptible to staining, which may become noticeable through the veneer. Since teeth whitening treatments don't work on veneers, replacing them is the only way to lighten your smile.
3. There Is Space Between the Veneers and Gums
Poor oral hygiene or gum disease can cause the gum tissue to recede, creating a space between the gums and veneers. A cavity may also lead to a gap. Your dentist will have to remove the veneers and treat the underlying issue before placing new ones.
4. Your Veneers Are Rough Around the Edges
Over the years, biting and chewing can wear down the edges of your veneers. They might even crack or chip, which is a clear sign they should be replaced. If your veneers feel rough when you run your tongue over them, it's time to give your cosmetic dentist a call.
5. There Is Visible Damage
Today's veneers are stronger than ever, but they're not indestructible. Years of chewing can give them small fractures that will grow larger with continued use. If you can see any of these fractures in the mirror, ask your dentist about veneer replacement.
Are your veneers not as vibrant as they once were? Call your cosmetic dentist. They can create the perfect solution to restore your brilliant smile.
About the Author
Dr. Jasmine King is a family dentist in Fort Worth, TX with 15+ years of experience. She is passionate about honing her clinical skills through continuing education. She also enjoys giving her patients the brightest, healthiest smiles possible, which is why she has perfected the art of veneers. To learn more about the process of veneers replacement, you can reach the team at Summer Creek Dentistry online or by calling (817) 292-7488.