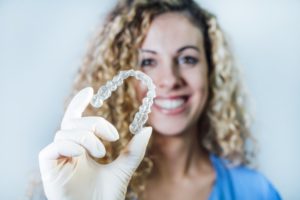 As the end of the year approaches, your calendar is likely filling up quickly with last-minute plans and events. It can be easy to put things like enhancing personal appearance on the backburner. If you've been wanting to straighten your teeth for a while, but just haven't scheduled a consultation with your dentist, there has never been a better time! The best news is, you don't have to sacrifice your personal confidence with a mouth full of metal to do it, and it doesn't have to break your bank. Keep reading to learn more about why now is the best time to consider Invisalign to transform your smile.
Why is Now the Best Time for Me to Get Invisalign?
Like a lot of people, you may not have considered Invisalign as something to take into consideration when it comes to your dental insurance benefits. Every year, it helps transform millions of smiles, and this year, yours could be one of those. You might feel like you've missed your opportunity for 2020, but here's why there has never been a better time to talk to your dentist about Invisalign in order to maximize your benefits:
Coverage
"Does my dental insurance cover Invisalign?" If you've asked this question, you're not alone. Many people assume that Invisalign is considered to solely be a cosmetic treatment and is therefore not covered by insurance, but that's not always the case. Because straighter teeth have a huge positive impact on overall oral health, there are many dental plans that allow for coverage when it comes to orthodontic treatments. So, before you decide to forgo a straighter smile to save money, research the details behind your dental insurance plan. You might be pleasantly surprised.
Deductible
Most insurance plans have deductibles, meaning a treatment cost must meet a certain amount before the insurance company will cover the cost of the claim. With more costly treatments like Invisalign, it is much easier to meet this amount, meaning you're more likely to receive more coverage. Check to see what your deductible amount is, and talk to your dentist about how receiving Invisalign treatment before the end of the year can help you not only straighten your smile, but also save money.
HSA or FSA
A Health Savings Account (HAS) or a Flexible Spending Account (FSA) might be the easiest and most practical ways to pay for Invisalign treatment. If you're contributing to one or both of these coverages on a monthly basis, it makes sense to make use of them. Plus, with FSA accounts, you will lose the funds at the end of the year if you have not used them.
Before you let another year slip by without treating yourself to a straighter smile, talk with your dentist about your options for Invisalign, and make the most of your dental insurance benefits.
About the Author
Dr. Jasmine King leads the team of experts at Summer Creek Dental in Fort Worth. She is passionate about giving each of her patients the smile of their dreams in the most convenient and affordable way possible for them. She is diligent about taking many hours of continuing education each year to enhance her knowledge and expertise in the field of dentistry. Are you ready to talk about Invisalign? Schedule a consultation online or call (817) 292-7488.