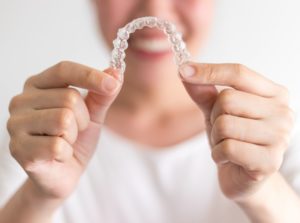 The unique advantages of Invisalign clear aligners has appealed to more than 8 million teens and adults around the world. These removable aligners are easy to care for, blend in with almost any lifestyle, and gently transform your teeth into a straighter smile. In fact, they're even touted to be much more comfortable than traditional metal braces. However, it's incorrect to assume that these aligners cause no discomfort at all. Read on as your Fort Worth dentist answers the question: "Does Invisalign hurt?"
Invisalign Is Less Painful Than Braces
Typically, it appears that Invisalign is a much more comfortable process of straightening teeth than traditional metal braces. A study conducted by Texas A&M University found that when asked to rate their level of discomfort, Invisalign patients consistently scored lower than those with metal braces for the first month of their treatment.
Dental experts believe that a large part of this is thanks to the design of the clear braces. Invisalign aligners are made of a single, smooth piece of hard plastic that fits closely to your teeth. This means that unlike traditional methods, they have no sharp, protruding, or poking wires and brackets that irritate your soft tissues.
However, Invisalign Is Not Pain-Free
Since your teeth are designed to stay securely anchored in place, any method of straightening them is bound to cause some discomfort. It's normal to experience some tenderness and soreness when first starting out with Invisalign. However, these feelings usually subside within a few days as your teeth adjust to their new position. The discomfort may return briefly when switching to the next, tighter set of aligners, but will also fade in a few days. While they may be uncomfortable for a little while, Invisalign aligners should not cause you intense or prolonged pain. If they do, tell your dentist right away so they can make the proper adjustments.
Tips for Relieving Invisalign Discomfort
To minimize any uncomfortable sensations while wearing your new aligners, try:
Applying a cold compress or ice pack to the outside of your mouth.
Starting each new set of aligners right before bed.
Eating softer foods for a few days after starting a new aligner.
Using over the counter pain relievers like acetaminophen and ibuprofen as directed.
Even though Invisalign isn't 100% pain-free, it's definitely a worthwhile investment in your oral health. With a little time and these simple tips, you should be able to comfortably enjoy the process of getting a straighter smile with Invisalign!
About the Author
The health, happiness, and comfort of our patients is always our top priority here at Summer Creek Dentistry in Fort Worth, TX. Dr. Jasmine King completes hours of continuing education each year and is an active member of several associations like the American Dental Association. This ensures that she stays current with the most advanced dental technology and efficient techniques, like Invisalign. She'd be happy to assess your smile and create a custom treatment plan for you, so feel free to contact her for a consultation via her website or (817) 292-7488.