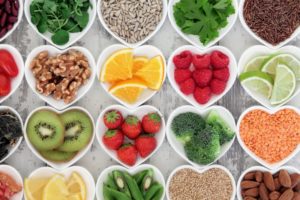 If you're an avid coffee drinker, a wine connoisseur, or you just really like dark colored sodas, your pearly whites might not be as bright as they used to be. In fact, there's a long list of foods and drinks that can stain and discolor your teeth, including marinara sauce, sports drinks, and berries. In a world full of things that can darken your smile, did you know that some foods can help your teeth look whiter? These natural teeth whiteners might be as close and available to you as your kitchen! While they won't whiten your teeth as well or as quickly as your dentist, these healthy additions to your diet can brighten your teeth and leave you smiling!
Strawberries
Even though these bright red berries can stain your shirt, they can help whiten your teeth. They naturally contain an enzyme called malic acid, which dissolves some of the discoloration on your teeth. Afterwards, take a quick moment to floss to remove any seeds stuck in your teeth!
Oranges and Pineapples
Does the thought of these tasty fruits make you drool? These tart foods encourage saliva production, which is your mouth's own natural way of cleaning off plaque and keeping your teeth white. They also contain Vitamin C, which plays a major role in fighting off infections like gum disease that can darken your teeth.
Baking Soda
Recent studies show that toothpastes containing baking soda remove plaque better than those without. If you want to give it a try, you can occasionally brush your teeth with baking soda straight from the box! Or, just pick up a tube of toothpaste fortified with baking soda at your favorite grocery store.
Yogurt, Milk, and Cheese
Dairy products are a great way to strengthen your teeth thanks to their calcium. They also contain lactic acid, which contains certain proteins that can help protect teeth from harmful acids that can stain teeth. Munching on hard cheese keep your teeth white by removing extra food particles.
While nothing will whiten your teeth as well or as quickly as a professional teeth whitening treatment from your dentist, incorporating these tooth-friendly foods will leave you with a brighter, healthier smile!
About the Author
Dr. Jasmine Coleman King is a general, preventive, and restorative dentist based in Fort Worth, TX at Summer Creek Dentistry. She is a graduate of The University of Tennessee College of Dentistry and completes hours of continuing education each year to learn the latest techniques and changes in dentistry. Since 2006, she has been helping the DFW area maintain happy, healthy smiles with great everyday dental habits. If you'd like to know more about this article, she can be reached through her website or at (817) 292-7488.