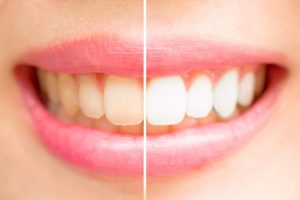 Have you heard about the latest teeth whitening treatments the stars are using? Are you willing to take a leap of faith to try it before talking to your dentist? While it may seem harmless, you could potentially cause significant damage to your teeth if you're not careful. While the safest and most effective way to whiten your teeth is with professional teeth whitening, here are 3 crazy methods that may or may not give you the results you want.

Strawberry Teeth Whitening
If you can imagine what your teeth look like when you smash strawberries against them, it's probably not a pretty sight. However, there are people who have tried mixing strawberries with baking soda to try and achieve a whiter smile. While it may taste sweet, it does nothing to give your pearly whites a boost in shine.
In a study performed by Dr. So Ran Kwan, a dental researcher and associate professor at the University of Iowa, she combined crushed strawberries and baking soda and rubbed the mixture over 20 pulled teeth for 10 days. Doing this three times each day, she made sure the mixture stayed on the teeth for five minutes before brushing it off. Discovering that it did help to remove plaque buildup and debris existing on the surface of the teeth, it did not actually generate a whiter smile.
So leave the strawberries for eating, not cleaning.
Charcoal Teeth Whitening
This popular method is quite the trend nowadays; however, those who claim the activated charcoal absorbs stains and bacteria are forgetting just how damaging the abrasive mixture can be to your teeth. Does activated charcoal help in certain circumstances? Absolutely! EMTs use it when someone swallows a harmful substance. To prevent it from spreading throughout the body, the activated charcoal will cause the substance to cling to the charcoal.
When it comes to your teeth, the charcoal can potentially damage the enamel of your tooth. While researchers have been unable to fully examine the effects of charcoal on teeth and its ability to whiten teeth, it's best if you keep the charcoal on the grill and out of your mouth.
Oil Pulling
Not as popular as charcoal teeth whitening, oil pulling involves using a tablespoon of coconut oil to brush on your teeth for as long as 20 minutes! While people in India, where the practice originated from, still use this method, they claim it improves their oral hygiene and whitens teeth. We can assume it won't actually harm you, but the ADA has yet to discover if oil pulling is an effective method to brighten your teeth.
Professional Teeth Whitening
If you want to achieve a brighter, whiter smile, the safest and most effective way to do it is to forget the fads and choose professional teeth whitening. Your dentist will know how long and how much of the product should be used to give your pearly whites the shine booster they need. There are several options to choose from:
In-office Teeth Whitening: Using the Venus whitening system, you can achieve brighter results in about an hour.
At-home Teeth Whitening: You'll receive custom-fitted take-home trays with pre-filled bleaching gel to ensure your teeth are whitened safely with this efficient system.
Don't take a chance with your teeth. Simply listen to the pros who know!
About the Practice
Summer Creek Dentistry is committed to providing the best cosmetic dentistry, general dentistry, and restorative dental care to your family in Fort Worth. With personalized treatment plans, we will answer any questions you may have about our recommendations. We want to ensure you are happy and satisfied with the way we plan to reach the desired results. To learn more about us, visit our website or call (817) 292-7488.