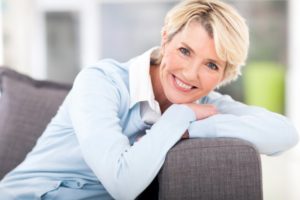 If you're missing one or more teeth, you may be all too familiar with the self-consciousness and embarrassment that gaps in your smile can cause. If you're considering a replacement option, dental implants give you more confidence and a higher quality of life than any other solution. Keep reading to see how dental implants can give you a healthy, beautiful, and functional smile that results in a lifetime of confidence.
Regain Your Healthy Smile
While the gap in your smile is the most obvious problem that missing teeth cause, it's not the only one. Your teeth use each other as supports to stay straight and keep your bite aligned. When you lose teeth, your remaining pearly whites can shift. Dental implants allow you to seamlessly complete your smile while maintaining the health and position of your natural teeth. Additionally, studies show that a complete and healthy smile automatically makes people perceive you as more confident, successful, trustworthy, and youthful.
Turn Back the Clock
Your tooth's roots provide the stimulation your jawbone needs to stay healthy and strong. When you lose teeth, your jaw will slowly deteriorate, causing a sunken looking face and even tooth loss down the road. Dental implants restore your roots and teeth to keep your jawbone strong. This results in a healthier and younger looking facial appearance and smile.
Dental implants are tiny titanium posts that act as artificial tooth roots for your dental restorations. Titanium is biocompatible, so it integrates into your jawbone to create a strong and permanent support. This osseointegration process preserves your jawbone from shrinking after missing teeth.
Eat All of Your Favorite Foods
Eating with friends, family, or in public can be embarrassing if you have missing teeth or dentures. Whether it's getting food stuck in your teeth or a slipping and sliding denture, eating certain foods can be incredibly difficult and embarrassing. Dental implants look and feel just like your natural teeth, which allows you to eat all of your favorite foods in confidence. This also enables you to eat a more well-rounded and nutritious diet for better overall health.
Extreme Durability and Longevity
When you're investing in a tooth replacement, don't you want something that is permanent? With proper care, dental implants can last a lifetime, allowing for confident day-to-day use. With an extremely high success rate and numerous health benefits, dental implants have quickly become one of the most popular tooth replacement solutions.
Are you ready to boost your confidence with a complete and healthy smile? Contact your dentist in Fort Worth to get started on a beautifully functional and natural-looking set of teeth.
Meet the Dentist
Dr. Jasmine Coleman King enjoys changing her patients' lives by providing them with long-lasting implants. She stays up-to-date on the latest in dental techniques and technology through continuing education courses. She currently practices at Summer Creek Dentistry, and she can be contacted through her website or by phone at (817) 292-7488.