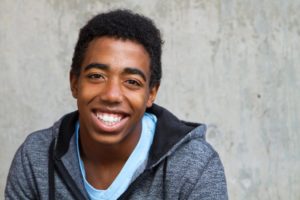 You've been thinking about straightening your teeth to fix the way your smile appears. Perhaps you even want to take advantage of modern solutions like Invisalign to get the look you've always wanted. But did you know that straightening your teeth is about more than just aesthetics? Straightening your teeth with braces or Invisalign in Fort Worth can actually improve your oral and overall health. Keep reading to find out how!
Making Daily Oral Care Easier
Cavity-causing bacteria have more places to hide in a mouth of crooked teeth. In fact, daily oral maintenance tasks—brushing and flossing—become more difficult to do efficiently with so many nooks and crannies. Straight teeth provide the ideal setting for oral health and can help you keep your smile happy and healthy.
Improving Mental Health
With traditional braces, it is common for patients, especially teenagers, to feel self-conscious about their appearance. The metal brackets, wires, and rubber bands are anything but subtle and leave some with lower self-esteem. Invisalign is clear and barely noticeable when worn. You or your teen can smile and talk with confidence wearing Invisalign clear aligners in Fort Worth.
Correcting Bite Misalignment
Sometimes straightening your teeth also corrects bigger problems. For example, if your bite is misaligned, it can cause undo stress on your body. Pain in your temporomandibular joint (right in front of your ears), headaches, excessive wear on your teeth's enamel, and interference with chewing or speaking are common problems that result from a misaligned bite. By taking the necessary steps to correct the cause of these problems, you can improve your overall health and quality of life in many ways.
Improving Overall Health
Many medical conditions have been linked to oral health. Heart disease, diabetes, kidney disease, and others have been connected to oral problems, such as gum disease. The better you can maintain your oral health, the better likelihood you have of reducing the effect of these serious medical conditions or perhaps even helping to prevent them altogether. By straightening your teeth, you help set your mouth and therefore your body on the road to long-term health and success.
Getting the straight smile you've dreamed about has more important effects than just improving your appearance and confidence. It actually can also help you promote your oral and overall health. It is worth the time, money, and effort to correct crooked teeth or a misaligned bite so that you can enjoy your beautiful, healthy smile for years to come. For more information about oral health or teeth straightening with Invisalign, contact your dentist in Fort Worth.
About the Author
Dr. Jasmine Coleman King has been practicing dentistry for nearly a decade and offers comprehensive dental services including general, cosmetic, and restorative dentistry. At Summer Creek Dentistry, she is certified in Invisalign and can help patients achieve results in 12 to 18 months. To contact her for an appointment, you can call (817) 292-7488 or click here.