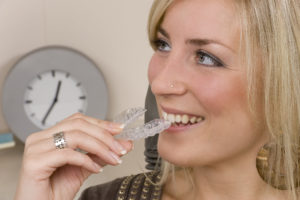 When many adults think of orthodontic treatment, they imagine the conventional metal braces some of their peers wore in middle or high school. However, it's never too late for a beautiful, straight smile. In fact, according to a survey conducted by the American Association of Orthodontists, 27% of all U.S. and Canadian orthodontic patients are adults. In another survey of adults who have undergone orthodontic treatment, 75% said they experienced improvements in their career or personal relationships thanks to their new, post-orthodontics smile. If you want the boost in confidence that a straight smile can bring, keep reading below to learn more about Invisalign in Fort Worth.
How Invisalign Works
Unlike conventional braces that rely on metal brackets and wires, Invisalign straightens smiles using a series of clear, plastic aligners. The custom-designed aligners apply just the right amount of force to the right places in the mouth to gently move teeth into the desired position.
Invisalign clear braces are typically worn for 20 to 22 hours a day but can be easily removed to eat, drink and clean your teeth. Each set of aligners is usually worn for about two weeks before being exchanged for the next set in the series.
While treatment time varies, on average, patients wear Invisalign aligners for 12 to 18 months. This is considerably less time than traditional bracket and wire braces require.
Why Adults Choose Invisalign Clear Braces
Adult patients choose Invisalign over traditional braces for a variety of reasons, including these 3 primary benefits:
Invisibility – One of the greatest advantages of Invisalign adult braces is that they are virtually unnoticeable. The clear aligners fit snugly on your teeth, meaning friends, family and coworkers won't even realize you have braces at all!
Greater Comfort – Metal braces can aggravate the inner cheeks and gums. Smooth, plastic aligners are considerably more comfortable by comparison.
Removable – Unlike conventional braces, you can remove your Invisalign aligners when necessary. This means you can continue to eat all your favorite foods and brush your teeth normally.
Am I A Good Candidate?
Your dental professional may not recommend Invisalign to treat more serious issues like severely rotated teeth or a deep overbite. However, the treatment has been proven to correct a wide range of dental imperfections, such as:
Misaligned teeth
Gaps in teeth
Overcrowded teeth
Mild underbites or overbites
Improper tooth position when the mouth is closed
Just because you are a working adult does not mean it is too late to straighten your teeth. Thanks to adult braces in Fort Worth, you can have the straight smile of your dreams without unsightly metal brackets in your mouth!
About the Author
An active member of the Texas Dental Association, Dr. Jasmine Coleman King has helped patients in the DFW area achieve and maintain outstanding oral health for over a decade. The University of Tennessee College of Dentistry graduate knows the importance of a confident smile, which is why she offers Invisalign clear braces at her practice. Patients interested in straightening their teeth in 2019 can visit the Summer Creek Dentistry website or call Dr. King at the office at 817-292-7488.