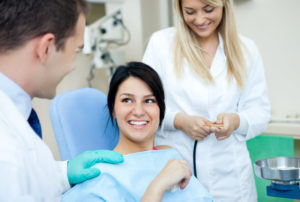 Most people will never need to have their wisdom teeth removed by a dentist in Fort Worth. Exceptions to this rule exists for teeth that are impacted, misaligned or damaged. If your wisdom teeth are bothering you, then it's important to see a dentist right away. Prompt treatment can prevent most problems from getting worse.
When Wisdom Teeth Become a Problem
Wisdom tooth extraction may be necessary in any of the following cases:
When the patient experiences pain at the back of their jaw.
When cysts begin forming inside the mouth.
When gums become inflamed or infected.
When a wisdom tooth applies pressure to the other teeth.
When wisdom teeth are a factor in jaw misalignment issues.
When the dentist suspects that the wisdom teeth are creating sinus issues or making them worse.
In most cases, wisdom teeth are easier to remove in younger patients. In fact, dentists sometimes perform preventative wisdom tooth extraction to spare children or teenagers from trouble down the road.
As we age, the bones in our jaw go through changes that make wisdom tooth removal more challenging. So, if you're older and if your wisdom teeth have never given you any trouble, then it's probably best to leave things as they are.
Sometimes adult wisdom tooth extraction is required. This can happen In cases where the wisdom teeth remain submerged beneath the gum line or when they have only partially emerged. In such cases they can put patients at greater risk of dental infections, cavities and other problems.
Wisdom tooth removal is oral surgery that usually requires a specialist. Your dentist will perform imaging scans during your checkup to determine if your wisdom teeth are causing you problems. If he or she notes any cause for concern. Then you'll receive a referral for further examinations.
If the follow-up exam confirms problems with your wisdom teeth, then an operation will be scheduled. The attending dentist will use pain blockers and probably some form of anesthesia to ensure your comfort during the procedure.
Recovery time from wisdom tooth extraction is usually 2 to 3 weeks. The doctor will suture the area to prevent bleeding and infection. You'll return to the office about a week after your surgery to have the stitches removed.
You might experience some degree of discomfort after the extraction. Common symptoms include bruising, swelling and fatigue. Your dentist may prescribe prescription pain relievers to help you manage your symptoms.
Your dietary choices will be limited during the first several days after the extraction. Soft foods such as applesauce, oatmeal, soup, mashed potatoes and yogurt are nutritious and tasty.
You should exercise care when brushing and flossing after your extraction and take all medications your dentist prescribes. It's especially important to complete antibiotic therapy, since failing to do so could put you at risk for a serious and even life-threatening infection.
Only your dentist in Fort Worth can tell you if you need wisdom tooth extraction. Make an appointment to see him or her soon if you're experiencing any oral health issues. This is one case in which a small amount of caution can pay off with big benefits.
About the Author
Doctor Jasmine Coleman King has been practicing dentistry in the Dallas-Fort Worth area since 2008. She earned her DDS degree from the University of Tennessee School of Dentistry. You can reach her office online or by calling (817) 292-7488.