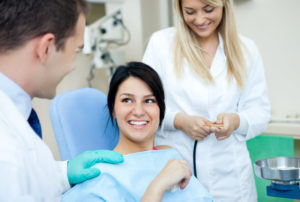 Do you feel jittery and anxious at the thought of a dentist cleaning your teeth? Even if you know how important regular dental checkups are to your oral health, dental anxiety can keep you from walking through the dentist's office doors. Indeed, between 30 million and 40 million Americans avoid trips to the dentist each year because of dental anxiety. Staying away from the dentist can have serious negative consequences for your teeth, including an increased risk of developing tooth decay or gum disease. So, before you skip your next dental appointment, read this blog post to learn how a sedation dentist in Fort Worth can make your visit stress-free.
What is Dental Anxiety?
Individuals who experience dental anxiety typically feel extremely uneasy and stressed when it is time for a dental appointment. Many skip their visit altogether and even put off seeing the dentist for years at a time. For the 9% to 15% of Americans who avoid visiting the dentist because of dental anxiety, some of their symptoms include:
Trouble sleeping the night before a dental appointment
Nervousness while sitting in the waiting room at the dentist's office
Feeling like crying or feeling physically ill at the very thought of visiting the dentist
Having difficulty breathing when objects are placed in their mouth during a dental exam
Dental anxiety is a common occurrence, but thanks to modern medicine there are new ways to reduce such dental fears.
How Oral Sedation Can Ease Your Fears
Visiting the dentist can be stressful – but thanks to oral sedation, it does not have to be! Typically administered in the form of a pill taken about one hour before a dental procedure, oral sedation produces a light to moderate level of sedation that will leave you at ease in the dentist's chair. You will remain conscious and be able to respond to prompts from your dentist but will feel deeply relaxed and unbothered by your surroundings.
Oral sedation is most commonly used for restorative dental services such as fillings or root canals but can also be administered to patients who suffer from severe dental anxiety during basic checkups and cleanings.
The effects of oral conscious sedation can linger for several hours after the procedure is complete – so plan to have a friend or family member drive you to and from the dentist's office.
Don't let fear of the dentist's office get in the way of maintaining a healthy smile. Before skipping your next dental appointment, talk with a Fort Worth sedation dentist about how oral sedation can help reduce dental anxiety during your visit.
About the Practice
Under the leadership of Dr. Jasmine Coleman King, Summer Creek Dentistry is committed to providing quality cosmetic, general and restorative dental care to families in the Fort Worth area. The experienced team at Summer Creek Dentistry knows that some individuals experience strong feelings of dental anxiety, which is why they offer oral sedation to help put patients at ease during visits. To learn more about oral sedation, visit the Summer Creek Dentistry website today or call the office 817-292-7488.