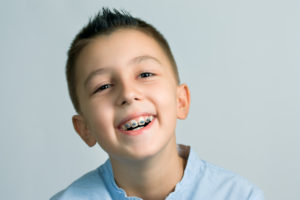 As your child's primary teeth have started growing in, you've noticed that there are some alignment issues that need to be corrected. You're not sure, though, when is the right time to have him or her fitted with braces or who's the right orthodontist to provide care. Thankfully, there's a way to eliminate any guessing and find a competent professional you can trust your child's care to. As you read on, learn how family dentistry in Fort Worth gets the ball rolling.
It All Starts with a Visit
Before the discussion starts about correcting your young one's bite issues, it's important to have a relationship established with your family dentist. The American Dental Association recommends that you take your child to the first dental visit within six months of the first tooth appearing. That's because he or she is susceptible to tooth decay once the primary teeth begin to emerge and solid food is consumed.
If there are concerns about bite issues, then the age to first consider corrective measures is around seven. Your family dentist will advise as to how you should proceed with getting the care your child needs.
Benefits of Visiting Your Family Dentist
By establishing a relationship with your local dentist early, your little one can get off to the right dental health start and prevent tooth decay. Again, if your child has bite issues, your dentist can recommend a professional to provide the care needed. The greatest value of a referral from your family dentist is that he or she already has a relationship with your child and an inside track on the type of professional needed to correct his or her misaligned, crooked, crowded or gapped teeth.
Peace-of-Mind Matters
Not only does taking this route ensure that your child has a successful treatment managed by the right professional, it also gives you the peace-of-mind of knowing that he or she is in good hands. This is what happens when you visit the orthodontist:
Meet the Staff – Because it's a new environment, your little one will first meet the staff at the orthodontist's office to calm any anxieties and become more familiar with the new process.
Examination – Your orthodontist will then examine the teeth to determine whether treatment is needed.
X-Rays – Following that, a series of X-Ray photos will be taken to get an accurate representation of your child's current condition.
Conversation – You'll then sit down for a conversation with the orthodontist where he or she will discuss the findings. If it's determined that corrective measures are needed, this will be your opportunity to ask any questions and decide whether you'd like to move forward.
Impression – The next step will be to have a bite impression taken so a set of braces can be fabricated at a trusted lab.
Once the braces are ready, you'll take your child back to be fitted so he or she can get on the road to an improved smile and oral function.
To get the process started the right way, reach out to your family dentist in Fort Worth to schedule the first preventive care visit today.
About the Author
Dr. Jasmine Coleman King earned her dental degree from the University of Tennessee College of Dentistry. Since 2006, she has been providing exceptional care in the DFW area while continuing to hone her skills and expand her knowledge through continuing education courses. Dr. King helps families experience the absolute best in dental care at Summer Creek Dentistry and can be reached for more information through her website.