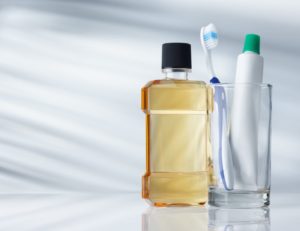 You've decided to make your oral care more of a priority, which is why you're looking for ways to make improvements in all areas of it. As part of your quest, you want to be sure that the items you use are as effective as they can be. Thus, you wonder, "Is there an expiration date on dental care products?" Thankfully, your dentist in Fort Worth has the answers you're looking for!
How Long Can I Use These Dental Care Products?
The following will help you determine how long your dental care products can be used effectively:
Toothpaste – When you squeeze out a dollop of toothpaste on your brush, you want to feel certain that it will deliver the results you expect. One way to ensure that is to pay attention to the manufacture date. You can count on your toothpaste to maintain its effectiveness up to two years after the listed date. After that, the flavoring agents and fluoride will begin to diminish. The latter is the most important because it helps to fight decay by strengthening the enamel of your teeth.
Floss – Aside from being a spectacular medium for removing bacteria and leftover food from between your teeth, a great asset of dental floss is that it doesn't expire. After about a year, though, it will lose its flavor.
Toothbrush – When it comes to your toothbrush, there are two things to keep in mind:

You should replace it every 60 to 90 days to avoid bacteria accumulation.
If you've been sick, you should immediately discard your current one for a replacement, regardless of how long you've had it. This is so you can lessen the chances of being re-infected.

Mouthwash – You shouldn't use mouthwash after two to three years after the manufacture date. This especially applies to those containing alcohol, because over time it will dissolve, leaving more water. Thus, you may go on using it thinking that you're getting the bacteria-fighting benefits, when you're merely rinsing your mouth.
By keeping these points in mind, you'll be able to enjoy a cleaner mouth, teeth and gums and fresher breath.
Your Dentist is Here to Help!
Along with having information on how to maximize your efforts, it's great to know that your dentist is available to extend a helping hand in enhancing your dental health. The easiest way to take advantage of your local resource is to maintain semi-annual visits for cleanings and checkups.
While there, your family dentist in Fort Worth will remove any stubborn plaque and tartar and perform a tedious examination to ensure that no problems are lurking. This will also be a great time to ask her for pointers on ways to get the most out of your dental care products. So to get the ball rolling, all you have to do is reach out today!
About the Author
A graduate of the University of Tennessee College of Dentistry, Dr. Jasmine Coleman King has been practicing in the DFW area for over a decade. Truly passionate about helping her patients, she continues to pursue more knowledge through continuing education courses. Dr. King provides expert and compassionate care at Summer Creek Dentistry and can be reached for more information through her website.