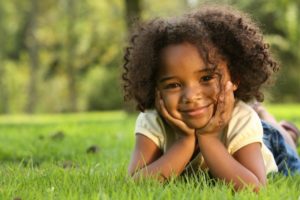 As a parent, one of your primary concerns is the wellness of your little ones, which includes their oral health. You wonder, "Are they brushing their teeth correctly?" Or you may ponder, "Are they eating junk food when I'm not around?" Being that she is a parent too, your dentist in Fort Worth understands all too well the stress that this can cause, which is why she will weigh in with information on how to maximize the great opportunity available to you in the month of February – to celebrate National Children's Dental Health Month by emphasizing the importance of healthy oral practices. Learn some specific things you can do as you continue reading.
What is the Purpose of National Children's Dental Health Month?
The purpose of this month-long recognition of dental health for children is to bring awareness to the importance of maintaining practices that contribute to their healthy mouths, teeth and gums. This month-long observance brings together thousands of dedicated dental professionals, health care providers and educators to promote the benefits of good oral health to children, their caregivers, teachers and many others.
This year's slogan, "Defeat monster mouth," places an emphasis on eliminating plaque through the incorporation of healthy lifestyle practices into your children's daily routines.
What Habits Help to Fight Bacteria and Plaque?
One of the most important aspects of National Children's Dental Health Month is the encouragement of healthy practices that subdue bacteria and plaque before they can attack your children's mouths. These habits include:
Brushing – This is a great time to emphasize the proper technique of brushing to your children, also reminding them to engage for two minutes and to perform this routine at least twice a day.
Flossing – Another very important oral hygienic practice for your kids is to floss every time they brush their teeth. This will help remove excess particles that linger between their ivories and play a major part in bacteria accumulation.
Rinsing – It's great to impress upon your little ones the importance of rinsing their mouths with a wash and being sure to swish it around for 30 seconds to allow it to properly saturate the area. Be careful to make it clear to them, though, that the rinsing is just a supplement to brushing and flossing – not a substitute.
Eating Healthier Snacks – The foods your children eat play a huge role in their dental health, so try to keep a healthy snack option on hand at all times so they will be less tempted to give in to the types of foods that will contribute to oral maladies.
Would you like to really maximize the energy for your children's oral health that's flowing this month? If so, then reach out to your local dentist to schedule your happy bunch for their first visits and enjoy the comfort of knowing that their oral health is in good hands.
About the Author
A parent herself, Dr. Jasmine Coleman King can empathize with the challenges of rearing young ones. A graduate of the University of Tennessee College of Dentistry, where she earned her Doctor of Dental Surgery degree, Dr. King practices at Summer Creek Dentistry, where she offers cutting-edge yet compassionate care. She can be reached for more information through her website.