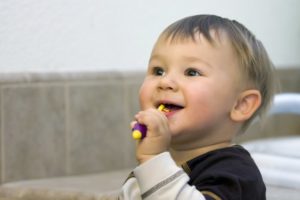 It's an exciting moment in your child's development. You feed them breakfast one morning and as you open their mouth, you notice that tiny nub of a tooth is starting to grow in. Dental professionals recommended you schedule an appointment with family dentist in Fort Worth as soon as their first tooth comes in.
Dentists do this because baby teeth are a very important part of your child's oral health, even though they will eventually find out. Learn why after reading our new post today.
Why Baby Teeth Matter
Baby teeth help your child do many things essential to their oral health, including chewing and speaking (not to mention flashing you that cute smile.) What many people don't realize is baby teeth are holding space in the jaws for permanent teeth growing under the gums. If your baby loses their teeth too early, it can cause complications in their development.
For example, the permanent teeth can start to drift into the empty space and make it difficult for the rest of their adult teeth to find room and grow in. When this occurs, it makes their teeth grow in crooked or crowded as they age.
Your Child's Daily Habits Are at Stake
Basic actions such as eating could be affected if your child's teeth fail to grow in properly. As their teeth grow, they'll get used to eating tougher foods that are foster good nutrition over time. If your child is experiencing dental pain because of cavities, it can make it more difficult to introduce these foods to them later.
The better your child's teeth are, the more it will aid in their speech development as well. The tongue, lips, and cheek all deflect off teeth, so teeth that are positioned properly will assist in the pronunciation of certain words. Not being able to speak properly due to preexisting dental issues could also affect your child's self-esteem once they start school. That's why you'll want to take the necessary steps in keeping their mouth healthy as it develops.
How to Take Care of Baby Teeth at Home
After your baby is born, start by cleaning their gums with a moist gauze pad or washcloth. Since tooth decay can start as soon as teeth appear, you'll need to start cleaning them when they do. For children younger than 3, start brushing their teeth with a fluoride toothpaste; use no more than the size of a grain of rice. Do this twice a day and as directed by your dental professional.
For children aged 3 to 6, start using a pea-sized amount of toothpaste to brush their teeth. You'll want to stand by as they brush to make sure they don't swallow any toothpaste. Once you're comfortable with them brushing on their own, make sure they start brushing the areas between their teeth as well after they've grown enough. Your dentist can also provide fluoride treatments and dental sealants that protect your child's teeth from cavities.
Start caring for your child's teeth the moment they come in. Schedule an appointment with your family dentist in Fort Worth today!
About the Author
Dr. Jasmine Coleman King, DDS, received her Bachelor of Science from Tougaloo College followed by her Doctor of Dental Surgery from the University of Tennessee College of Dentistry. After relocating to the DFW area to start her dental career, she began taking many hours of continuing education to help children maintain their oral health and help parents stay informed on proper oral health practices for their kids. To learn more about her practice, contact her at (817) 292-7488 or visit her website.