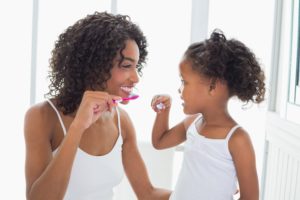 Toothbrushing is a habit that will serve your child well for their entire life. Unfortunately, it isn't always easy to get your little one to take care of their pearly whites. They may feel that brushing is tedious or boring — they might even try to tell you that it isn't necessary. Do you have a brushing battle on your hands? Your family dentist in Forth Worth is here to give you some tips on how to galvanize your children to become stalwart warriors against dental decay.
Educate Your Child with Fun Videos
If your child thinks their teeth are invincible, find some kid-friendly videos online to show them what happens when brushing habits fall by the way side. For example, the characters Dr. Rabbit and Dr. Brushwell from Colgate have some entertaining videos on YouTube. The brave dentists and their team of Tooth Defenders fight to protect Tooth City against the ravages of plaque!
If you want videos that hit a little harder, search for ones that have real images of what can happen to teeth that don't receive a regular brushing. They might scare your kids a bit, but sometimes fear is a good thing.
Let Your Child Pick Their Toothbrush
No one wants a boring toothbrush. Take your child with you the next time you pick up oral hygiene supplies for your family, and let your little one choose their own weapon for fighting tooth decay. Some brushes feature cartoon characters, others have an array of bright colors on the handle, and some come packaged with flavored floss or other goodies.
You might also consider upping your toothbrush budget a bit so you can get your child an electric brush. It will make them feel all grown up! Plus, an electric brush may clean your child's teeth better than a manual one.
Use Music
Kids love to rock out to their favorite tunes, so why not make music part of the oral hygiene routine? You can find a song about brushing teeth to play while you both stand in the bathroom and clean your pearly whites. Of course, the song doesn't have to be about oral hygiene. Any music that your child loves might do the trick.
Get Help From Your Family Dentist
Search for a "dentist near me" who is happy to accept patients of all ages, and schedule regular cleanings and checkups for your little one. A kid-friendly dentist will know how to talk to your child about good oral hygiene — plus, sometimes children are more likely to listen to adults who aren't their parents.
A child's smile is precious! The above tips might help you get your little one into the excellent habit of brushing twice a day every day.
About the Dentist
Dr. Jasmine Coleman King is your family dentist in Forth Worth. She puts her experience and the latest technology to work to provide top-notch dental care to patients in every age group. If you would like to learn more about how to help your child have a healthy mouth, contact our office at 812-292-7488.