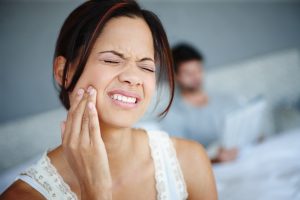 Unfortunately, we can't walk around with an imaginary layer of bubble wrap to protect us at all times.  Accidents happen. That's just the way life plays out. What you can do is stay informed about how to best avoid dental accidents rather than frantically googling, "emergency dentist in 76123!" Dr. Jasmine Coleman King and the rest of our dental team at Summer Creek Dentistry want you to know these helpful tips to keep your healthy teeth and gums from encountering dental emergencies.
1.      Practice good oral hygiene at home.
Did you know that brushing and flossing incorrectly could cause a horrible toothache—or alternatively not brushing or flossing at all? When you brush, you should split your mouth into sections in your mind and thoroughly brush each area. Your total brushing time should be about two minutes long. Make sure you're using a toothbrush with soft bristles to avoid irritating your gums from scrubbing too hard and leaving them susceptible to bacterial infections and painful toothaches.
2.      Avoid chewing hard or sticky foods.
We know they're tempting, but hard and sticky foods are dangerous to the well-being of your teeth. After finishing a beverage, be nice to your teeth and skip chewing the ice in the bottom of the cup. If you must have a sweet caramel candy, avoid chewing it. Your emergency dentist in Fort Worth already recommends avoiding sugary foods, but sticky ones may cause a dental restoration to come loose and saturates your teeth in enamel-wearing sugar.
3.      Drink lots of water.
Water is the best fluid for your whole body including your mouth. By keeping hydrated, your mouth will be able to reproduce its natural mouthwash: saliva. Saliva helps clean your mouth naturally and dislodge foods and other things from becoming stuck between your teeth and along your gum line. If you don't drink enough water, your mouth doesn't have the opportunity to clean itself.
4.      Use a mouthguard.
Custom mouthguards are really helpful in protecting your teeth from a variety of potential damages. Dr. Coleman King recommends getting a custom mouthguard from Summer Creek Dentistry for any contact athletic activity. A mouthguard could be the barrier that saves your tooth from being knocked out.  Custom mouthguards are also great for protecting your teeth from bruxism (teeth grinding) which could lead to the erosion of your teeth and TMJ disorder.
5.      Visit your Fort Worth dentist.
Benjamin Franklin once said, "An ounce of prevention is worth a pound of cure." This holds true in dentistry! Dr. Coleman King can keep an eye out for severe dental problems during semiannual dental appointments. Not only will you receive a comprehensive dental exam, but also get your teeth and gums gently cleaned and polished.
If you or a family member happen to encounter a dental emergency, the best thing to do is remain calm and refrain from googling, "Help, I need a dentist near me!" Call our office right away and we will be able to walk you through the steps you need to take until you can make it to our Summer Creek Dentistry office.