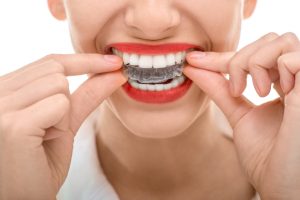 If you are living with crooked or gaped teeth, you have probably considered orthodontics. However, the appearance of a visible, lengthy treatment using metal braces is not too appealing. Now, you can get a straight smile in less time with Invisalign. This treatment has quickly become the most preferred option for teens and adults because it is virtually invisible. As a dentist for Invisalign in 76123, Dr. Jasmine Coleman provides this treatment to our patients. We understand you have plenty of questions prior to making your decision. To ensure no area is overlooked, we have the top questions you should ask your dentist before making the commitment.

Questions for Adults
Many adults now turn to Invisalign because it offers a discreet, sophisticated means to straighten the teeth. As an adult, you have unique requirements to ensure the treatment meets your needs and lifestyle. When speaking with your dentist, you should ask:
What does the treatment process involve?
How long will it take to see results?
How long will my treatment last?
Do I have to visit the dental office often?
How much does Invisalign cost and how can I pay for it?
Will I have any restrictions during treatment?
How comfortable are the aligners?
Will I need a retainer after my treatment is complete?
Questions for Parents
Invisalign is not just for adults. Many teens are now choosing this option because it allows them to remain confident during their treatment. As a parent, you want to ensure you are making the best choice for your teen. When considering Invisalign for your child, ask your dentist:
How is the treatment different than that of metal braces?
What is the long-term success of the treatment?
What can my teen expect during treatment?
How long will my teen need to wear the aligners?
How frequently will my teen need to see the dentist?
How much does the treatment cost and what are my options to pay for Invisalign?
My child is active. How does it fit into their activities?
Will my child have restrictions?
How difficult is caring for the aligners?
What if the aligners become broken or lost?
Will my teen need a retainer when treatment is complete?
Questions for Everyone
When considering Invisalign, everyone has questions regarding the safety, comfort, and convenience of the treatment. As you discuss your treatment plan, do not be afraid to ask the dentist:
Is the treatment painful?
Can I still participate in normal activities, like sports or playing music?
Will it be difficult to speak?
What if I forget to wear my aligners?
How do I care for my teeth and the aligners during treatment?
Are there any dietary restrictions?
Your Dentist for a Straight Smile
If you are ready to get a straight smile with Invisalign in Fort Worth, Summer Creek Dentistry can help. We offer the clear aligners for both teens and adults. Contact our office today to see if you are a candidate for Invisalign. We will answer your questions and concerns to help you choose the best orthodontic treatment.