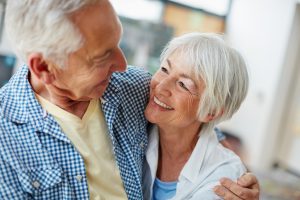 Now that you've gone through the time and effort to get your dentures made, the last thing you need is to have problems with them. Caring for your dentures in 76123 is an important part in keeping them looking their best and lasting for many years to come. Your dentist, Dr. Jasmine Coleman, wants to share some helpful tips that will allow you the comfort of knowing that you are doing all you can to maintain your healthy smile, as well as achieving the proper care that will make your dentures last.
Proper Cleaning of Dentures
If you thought having dentures meant you could give up brushing your teeth, you'll have to think again. It is still necessary to brush your dentures, however you will need to make some adjustments. Do not use regular toothpaste. Unfortunately, many commercial brands of toothpaste can end up damaging your dentures. It is recommended that you use a soft-bristle denture brush as well, one that is specifically made for cleaning them, and use some water to brush all the surfaces of your dentures. You must be careful to handle them gently so that you don't bend any attachments, too. After each meal, it is important to rinse them, but remember this is not a substitute for brushing. It is also fine to purchase a specialized cleaner to soak your dentures in as needed.
You may be asking, "Can my dentist near me recommend which products I should use?" Of course we can, just give us a call and we'll tell you what to look for next time you're at the store.
Treating Dentures Right
Dentures are durable, but they still are not completely impervious to being broken. When you are handling them over the sink, it is a good idea to lay a folded towel down or fill the sink with water so that if you do happen to drop them, they will be protected. Whenever you take your dentures out for a period of time, it is necessary to soak them in cool water or a specialized denture cleaner so that they do not dry out. If your dentures do have metal attachments, be aware that certain solutions can cause them to tarnish. Also, never soak your denture in hot water, as this could cause them to warp.
While You Sleep
Whether you have a full or partial denture, it is important to remove them every night. This will allow your gum tissue a period of time to rest.
Questions?
Taking care of your dentures is an important part in making them last for a number of years and keep them problem free. Be sure to keep seeing your dentist at regular six months intervals to be sure that they are fitting properly and not causing any irritation or gum disease. Make sure you come see us as soon as you can if you experience any problems with your dentures, as they'll probably get worse the longer you wait.
If you have any questions or concerns, please give us a call.