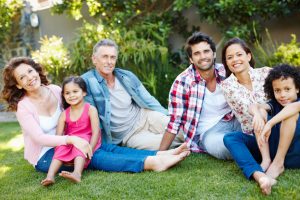 You want to provide the very best for your family, and that includes their medical care. Staying on top of regular appointments with a family dentist in Fort Worth can ensure that those you love most enjoy healthy teeth and gums for a lifetime to come. But how to choose the team that's best for your crew? Take a close look at Summer Creek Dentistry. We're waiting for you and your loved ones in our comfortable, state-of-the-art office.
The Right Choice for You and Your Family
Go ahead, make things easier on yourself in 2017, and for many years to come. Centralize your family's dental care into one location. At Summer Creek Dentistry, we offer a full range of dental services for patients of all ages. From your little one's first checkup and cleaning to great grandma and grandpa's special dental needs, we really do it all.
When it comes to your own dental care, you want a dentist who is highly trained and experienced providing a variety of treatments. Check out the practice's About Us page to find out about the dentist's education and any specialties they may have. Look out for active engagement in continuing education opportunities, which denotes a commitment to staying up-to-date on the latest in the field.
Having great rapport with your dentist also encourages open, thorough communication. If you feel comfortable talking to your dental team — from the front desk staff to the dental hygienists, assistants, all the way up to the dentist — that's an excellent sign to stick around.
Superior Dental Care for Children
Your child isn't taking note of a dentist's accomplishments, experience, or education. Instead, your little one values a dental team that provides friendly, comfortable care. Positive dental experiences beginning in childhood set him or her up for a lifetime of receiving regular dental attention and maintaining good hygiene. Choosing a team you and your children love is of the utmost importance.
Services that protect little teeth from cavities and other issues include:
Dental sealants: Thin coverings that shield the molars from acids and plaque that cause decay.

Topical fluoride treatments: A quick application of fluoride at the end of a checkup and cleaning strengthens tooth enamel for reduced risk of cavities.

Evaluation for the presence of wisdom teeth around age 11.  

Early orthodontic evaluation to determine the need for interceptive orthodontics.
Your little ones will look forward to visiting a dentist like Dr. Jasmine Coleman and her team. Our office is equipped with the extras children love — and the friendly faces they'll want to see again and again.
Where Can I Find the Dentist Near Me?
Looking for a dentist that's closeby? We're waiting for you at Summer Creek Dentistry. Contact us to schedule your family's two checkups and cleanings for 2017 today. We can't wait to join you and those you love most on a journey to healthy, long-lasting smiles!