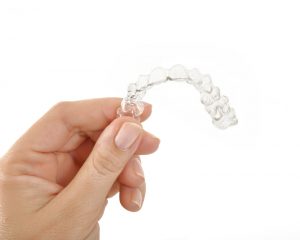 As an adult interested in a nice personal appearance, you desire to have the straight smile you never achieved as a youngster. While the typical age for orthodontic treatment is 14, more and more adults opt for braces, especially when those appliances are clear and comfortable.
Innovative Fort Worth Invisalign clear aligners give older teens, professional adults and people even in their senior years a discreet, and now, affordable way to have teeth that are healthy and well-aligned. Dr. Jasmine Coleman of Summer Creek Dentistry in Fort Worth is offering money off a total Invisalign treatment package.
Why Invisalign?
Invisalign appliances look like professional teeth whitening trays. Totally clear, BPA-free and customized to fit perfectly over top and bottom teeth, these innovative appliances move crooked, protruding or gapped teeth into better positions–all without the time commitment, discomfort and embarrassment of wearing metal bracket and wire braces.
While Invisalign cannot replace traditional orthodontics for the most complex of cases, it is appropriate for a wide range of smile problems such as overjet, overbite, crossbite, gaps, tooth rotation and underbite, among others. Dr. Coleman is specially trained in the Invisalign system and carefully appraises each individual's oral health and dental configuration before building an Invisalign treatment plan.
How it all works
An Invisalign patient wears his clear aligners for a prescribed amount of time each day–usually 20 to 22 hours. He can remove them for meals and snacks, to brush and floss and even to get his picture taken or to speak in front of a group.
The patient checks in with Dr. Coleman every 4 to 6 weeks for an assessment on progress. Unlike wire braces, there are no complex or painful adjustments to make. The patient also receives his next aligner pairs. In all, individuals wear anywhere from 18 to 30 pairs.
After an average treatment time of 12 months, less than half that of conventional braces, teeth are beautifully straight–without the soreness, decay and gum disease that can accompany traditional treatments. Dr. Coleman prescribes a retainer to keep a new Invisalign smile in place.
Can you afford Invisalign?
While the price of treatment with Fort Worth Invisalign is comparable to traditional braces, families these are especially concerned about dental costs. That's why Summer Creek Dentistry offers several ways to pay for any of their many preventive, restorative and cosmetic dental services, including Invisalign clear aligners.
You may pay for Invisalign by cash, check or major credit card and also CareCredit, a convenient financing option used by dentists, doctors and even veterinarians across the country. Plus, right now, new orthodontic patients may take advantage of a special Invisalign offer from Dr. Coleman: $800 off your Invisalign treatment plan.
Why not inquire?
You will never know if Invisalign clear braces are right for you unless you set-up a consultation at Summer Creek Dentistry in Fort Worth. Contact the friendly office team for an appointment to explore the possibilities, and be sure to ask about that $800 special offer.