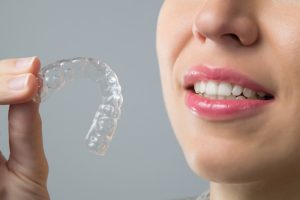 The best way to get a straight smile is through Nature. Failing that, though, orthodontic correction provides well-aligned, healthy teeth to thousands each year. Dr. Jasmine Coleman of Summer Creek Dentistry in Fort Worth, TX often recommends Invisalign clear aligners for teens and adults who want the benefits of braces without the "metal mouth" look, complicated hygiene and dietary restrictions that come with traditional orthodontics.
What are Invisalign aligners?
Invisalign aligners are clear, BPA-free acrylic appliances that resemble professional teeth whitening trays. They fit tightly over the top and bottom arches, gently moving teeth into healthier positions.
Constructed according to photos, x-rays and 3-D modeling of the patient's mouth, Invisalign aligners are appropriate for correcting a variety of mild to moderate orthodontic issues such as:
Tooth rotation
Overbite
Underbite
Crossbite
Open bite
Gaps
Crowding
Overjet
For many patients, Dr. Coleman previews smile changes before treatment actually starts to give patients a realistic idea of how their teeth actually will look.
In addition, Invisalign transforms smiles in Fort Worth, TX and across the country in less time than traditional metal bracket and wire braces. Treatment times average about one year while traditional braces may take 2-½ years or more, according to the American Association of Orthodontists.
Other Invisalign advantages
Perhaps what attracts teens and adults most to Invisalign is an easier life with braces. Metal, ceramic and lingual braces definitely have their places as excellent ways to correct complex bite and alignment problems. However, they can come with difficult limitations such as restrictions to what can and cannot be eaten, sore teeth and gums and brushing and flossing routines that are complicated and arduous. Visits to the orthodontist can be frequent and lengthy.
Invisalign changes all that. Because the aligners are fully removable, patients take them out for meals, snacks and oral hygiene.
Plus, many people remove them when they get their picture taken or have special events and presentations such as job interviews and weddings. Visits to Dr. Coleman involve simple progress checks every 6 weeks or so.
In all, patients wear 18 to 30 pairs of aligners, changing them according to Dr. Coleman's treatment plan about every 2 weeks. After treatment is finished, the dentist usually recommends wearing a Vivera retainer to keep the new alignment in place.
Could Invisalign work for you?
To date, millions of adults in the United States have begun enjoying the benefits of orthodontic treatment with innovative Invisalign aligners. Clear, comfortable and best of all effective, Invisalign appliances are the gold standard in today's orthodontics.
Step out! Contact Dr. Jasmine Coleman at Summer Creek Dentistry in Fort Worth. She loves telling people all about Invisalign and the life-changing benefits of a vibrant, well-aligned smile.