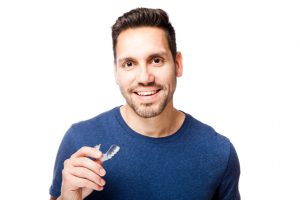 Invisalign in Fort Worth, TX corrects common orthodontic problems discreetly and comfortably. Learn more from Dr. Jasmine Coleman at Summer Creek Dentistry.
Get that straight, attractive smile as an older teen or adult. It's possible with Invisalign clear aligners from Fort Worth, TX cosmetic dentist, Dr. Jasmine Coleman. Invisible, fast and easy treatment with Invisalign fixes many alignment problems that affect health, appearance and self-confidence
Understanding Invisalign
Invisalign clear aligners are the modern way to improve oral health and personal appearance without the discomfort and "metal mouth" look of traditional wire and bracket braces. Teens aren't the only people who feel embarrassed by braces. Adults in the workplace do, too. Still, these dental patients wish to look and feel their best. Research shows that a great smile impacts self-confidence and that all-important first impression.
Invisalign fixes mild to moderate orthodontic issues with a series of 18 to 30 biocompatible, invisible appliances that fit tightly over top and bottom teeth. Over the course of 9 to 18 months, with 12 being about average, Invisalign patients wear their aligner pairs 20 to 22 hours a day.
They remove them to eat, brush and floss, and they check in with Dr. Coleman every 4 to 6 weeks for quick checks on progress with their treatment plans.
People who wear Invisalign aligners have no dietary restrictions. Unlike traditional metal or ceramic braces, Invisalign appliances come out during meals and snacks. Brushing and flossing is much easier as well, and because the aligners are smooth and move teeth gently into healthier positions, oral discomfort is minimal.
At the end of treatment, patients have great new smiles. They usually wear customized Vivera retainers as prescribed to keep teeth straight and stable permanently.
What problems does Invisalign address?
Invisalign addresses a wide range of difficulties, including those important to oral and systemic health. In other words, the Invisalign system is not just about beauty. Invisalign corrects:
overbite where the upper jaw extends too far over the lower jaw
underbite where the lower jaw extends over the upper jaw
cross bite where the upper and lower jaws do not line up laterally (from side to side)
open bite where a space exists between the upper and lower teeth (often caused by thumb sucking as a young child)
tooth rotation where teeth are turned partially or completely around
In addition to these 5 problems, Invisalign clear aligners treat gaps, overcrowding and various other malocclusions. The health benefits include clearer speaking and easier chewing, ease of hygiene, reducing gum disease and decay, and dental-related headaches, TMJ (temporo-mandibular joint) dysfunction and facial pain.
Dr. Coleman determines if Invisalign is right for a particular patient. She performs a complete oral exam, including x-rays, photos and impressions from which the Invisalign lab creates the clear aligners. Dr. Coleman even shows the patient what the finished smile will look like.
Interested in Invisalign?
Then, contact Summer Creek Dentistry for an appointment. Ask questions, and get a thorough determination of how Fort Worth, TX Invisalign could help you.