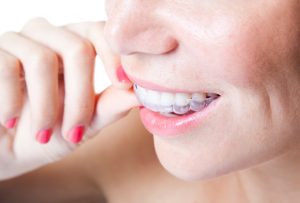 Mild to moderate orthodontic issues get fast, painless fixes with Invisalign in Fort Worth. Dr. Jasmine Coleman uses them with both teens and adults.
Fort Worth dentist, Dr. Jasmine Coleman, offers a great alternative to traditional metal braces. Invisalign clear aligners straighten teeth comfortably and in less time that you might expect.
What is Invisalign?
Invisalign clear aligners are orthodontic appliances custom-made to move teeth into more aesthetically pleasing and healthy positions. Made of BPA-free durable plastic, Invisalign aligners are practically unnoticeable, making them a terrific choice for individuals wanting a better smile without the embarrassment of metal braces.
The aligners come in a series of pairs. Each pair moves teeth into a new position according to the Fort Worth dentist's treatment plan.
Dr. Jasmine Coleman of Summer Creek Dentistry recommends Invisalign to patients with:
After determining that Invisalign is appropriate, Dr. Coleman takes impressions of the patient's mouth and sends a treatment plan to the Invisalign lab where a technician constructs the customized aligners. When the patient begins treatment, he or she wears the first set of aligners for the prescribed amount of time, generally 2 weeks. The patient then moves on to the next set.
Treatment time and comfort
Patients work through a series of 18 to 30 sets of aligners. They visit Dr. Coleman every 4 to 6 weeks for simple progress checks and to receive the next sets of appliances. In all, treatment with Invisalign takes 9 to 18 months, with a year being average.
Patients report that their aligners fit very snugly over their teeth. While Invisalign exerts gentle pressure on teeth, patients do experience some mild discomfort, particularly when first wearing a new set of aligners. To avoid this, patients should start wearing new pairs just before going to bed so the initial pressure happens during sleep.
Also, Dr. Coleman suggests cold compresses to sore areas of the face 2 to 3 times a day and soft foods as needed. In general, however, people experience far less discomfort with Invisalign than with bracket and wire braces.
Further, Invisalign patients wear their aligners for 20 to 22 hours per day, taking them out to eat, brush and floss. They like the ease with which they accomplish their oral hygiene routines. Also, while the appliances are unobtrusive in appearance, many people remove them for special occasions such as weddings, proms, job interviews and the like.
To keep treatment on schedule, Dr. Coleman says individuals must wear their aligners as directed. Otherwise, the treatment plan takes longer. For teens, aligners can come with colored compliance tabs which wear down if patients are good about keeping appliances in place.
Stop worrying about lengthy, painful braces
You or your teen can enjoy a healthy, well-aligned smile with less hassle and more quickly than old-style braces. Contact Summer Creek Dentistry in Fort Worth to learn how Invisalign clear aligners work to invisibly and comfortably fix smiles.