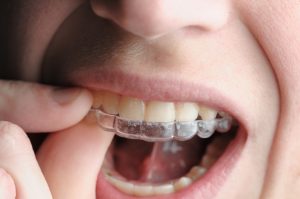 More and more people choose Invisalign clear aligners for orthodontic treatment in the Fort Worth, TX area. Comfortable and invisible, Invisalign delivers straight smiles in record time.
Poorly aligned teeth have more decay and gum disease. Plus, research published in the American Journal of Cardiology shows an increased incidence of cardiovascular disease in people with crooked teeth. And what about smile aesthetics and self-esteem? A straight, healthy smile always makes a great first impression.
Invisalign aligners are a great option
While some teens and adults wish they had fixed their smile problems as children, many older dental patients stop procrastinating and take advantage of a popular orthodontic treatment in the Fort Worth area: Invisalign clear aligners. Practically invisible and very comfortable with shorter treatment times, Invisalign is ideal for mild to moderate alignment problems, including:
overbite
underbite
cross bite
open bite
tooth rotation
Made from BPA-free acrylic, Invisalign appliances are customized according to your Fort Worth dentist's treatment plan and 3-D images of your teeth. Fitting tightly over top and bottom teeth, the aligners gradually shift teeth into proper positions, accomplishing great looks and bite in 9 to 18 months, with a year being average.
This treatment time is shorter than traditional metal bracket and wire braces, clear bracket braces and lingual appliances, too. These methods typically take 18 months to 3 years and carry disadvantages such as:
limitation of diet choices (no peanuts, celery, sticky foods)
difficult flossing and brushing
unsightly appearance
sore spots on gums and inside cheeks
The many advantages of Invisalign
Invisalign aligners, on the other hand, are clear and unobtrusive in appearance. They are removable as well, as patients typically wear them 20 to 22 hours per day, taking them out:
to brush and floss their teeth twice a day and after meals
to get their teeth professionally cleaned at Summer Creek Dentistry
for pictures and important occasions such as weddings, job interviews and professional presentations
to change them for the next set of aligners
Typically,  patients wear 18 to 30 sets of aligners over the course of their treatments and meet with Dr. Jasmine Coleman, their dentist in Fort Worth, about every 4 to 6 weeks for brief checks and to get new aligners. Patients like that they spend less time in the dental chair with Invisalign than they would with traditional braces.
Would Invisalign work for you?
Here's how to know. Consult skilled Fort Worth dentist, Dr. Jasmine Coleman. She will carefully evaluate the health of your teeth and gums and help you decide if Fort Worth, TX Invisalign could straighten your smile. Why not arrange a consultation today? Contact the Fort Worth office of Summer Creek Dentistry to arrange a personal consultation on this very popular orthodontic option.