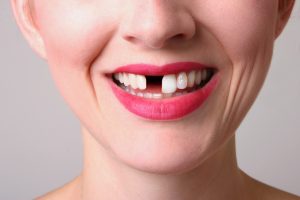 Missing teeth can be the absolute pits. It can cause many problems that go way beyond just having an unfortunate-looking smile. There are functionality that come into question, like talking or eating. Missing teeth also invite harmful bacteria into the mouth because of the open spaces. Open spaces in a mouth are bad for any patient and should be addressed immediately. We've seen many smiles come through our office with missing teeth and have helped patients achieve beautiful results. We can help anyone with missing teeth when they come to our office in Fort Worth, TX.
Dental implants are the most preferred solution for missing teeth. Dentures are also a viable option, but don't have the structural integrity that dental implants do. Dental implants are a permanent solution that will close spaces and help bring proper aesthetic quality back to your smile. Dr. Coleman is the dentist Fort Worth residents can rely on to solve their missing teeth problem and enjoy life with wonderful oral health.

Dental Implants Are The Preferred Option For Missing Teeth
There are many reasons why dental implants are the preferred form of treatment for replacing missing teeth. Dentures could be applied, but because they aren't permanent fixes, it may not be able to fix the problem. Dental implants, on the other hand, solve the missing-teeth problem for good. As noted before, they are permanent, which means once they're in your mouth they aren't going anywhere. They function just like normal teeth but are much stronger.
Your tooth roots are extremely important and have two jobs. They help keep your teeth anchored to the jaw for a stable foundation. Also, they stimulate the jawbone to create brand new bone tissue. It's this process that helps keep your jaw strong throughout the years. Once a tooth root is lost, the jaw is left hanging in the balance. The jaw will lose bone over time when missing teeth are a part of your oral situation. Once dental implants are inserted, it helps keep your jaw properly supported.
Another fantastic benefit of dental implants is their durability. Because they are permanent restorative solutions, you won't ever have to worry about teeth slipping or retreating. As long as a patient keeps up with great dental hygiene habits, the dental implant will retain its health and help promote the health of the teeth around it.
Schedule Your Dental Implant Procedure Today
Dr. Coleman is the cosmetic dentist you can trust to replace missing teeth. Dental implants are highly successful and can rejuvenate your smile back to normalcy. You can eat whatever you want, speak freely and do whatever else with a beautiful smile. Dental implants can be a life changer – find out more about dental implants, Fort Worth!